Choosing the Right Centrifuge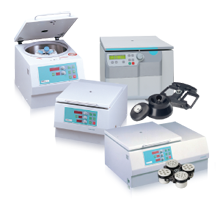 We often receive call from potential customers that are in the market for a new centrifuge. More often than not, they are unaware of the many options and the pertinent information that is required to make an informed buying decision. I would like to provide you with some valuable information and important considerations that will hopefully make your job easier in the finding the right centrifuge for your lab.
The following are some of the key considerations that will help you determine the type of centrifuge that will best suite your needs.
What is your budget?
Does manufacturer offer an extended warranty?
What capacity i.e. How tubes per run
What is the maximum and minimum size tubes?
What type of rotors will you need to support your applications i.e. Fixed angle, swinging bucket?
What is the max. And min. G-Force?
Do you have any space restrictions, such as benchtop or floor space only?
Do your samples require refridgeration?
Once you have answered the above questions and understand the different types of centrifuge platforms and the applications.
They support you should be able to work closely with your supplier to configure the best system to meet your specific requirements.
After you complete your assessment of current and future centrifugue application needs, you will optimize your centrifuge purchase which will provide improved and consistent outcomes.