https://www.nextdayscience.com/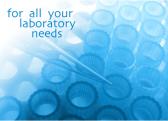 Lab Ware
It takes a lot of tools to outfit a lab, and Next Day Science is there for all your laboratory needs.
Next Day Science is proud to be a prominent supplier of superior, disposable plastic products and other consumables that are suitable for industrial, clinical, educational, and laboratory applications.
Whether you need basics like beakers, goggles, graduated cylinders, sample cups, plastic lab bottles, and glassware, or special items like spreaders, kim wipes, parafilm, autoclave bags, and weigh boats, you can locate the best lab ware at the best prices here.