https://www.nextdayscience.com/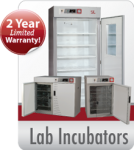 Incubators
Incubators serve many purposes in the lab, as a device designed to grow or maintain microbiological cultures or cell cultures.
The General Purpose Laboratory Incubators available at Next Day Science are offered in sizes ranging from 2 to 40 cubic feet.
Laboratory incubator applications are diverse because of the many different industries and protocols they are used for. Next Day Science incubators will accommodate a wide range of applications from general to refrigerated to shaking incubators, and more. See the Features and Specifications of specific incubators for more information.