https://www.nextdayscience.com/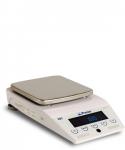 Top Loading Balances
Next Day Science is excited to offer Precisa top loading balances, setting new standards of weighing excellence in the high-end analytical balance market.
The premium workmanship of the robust die-cast aluminum housing, coupled with the finest engineering materials and design, provides excellent protection against mechanical and electrical interference. This allows the balance to operate at the highest levels of precision, from the initial weigh-in period through the final result. Precisa top loading balances provide you with a comprehensive solution to demanding laboratory tasks and allows you to capture critical results. For more information, review the specifications of the individual balances.
To make sure you have the right balance for your lab's needs, pick up the phone and call us at 866-650-0314.
Technical specialists are on hand to assist you with any questions you might have.